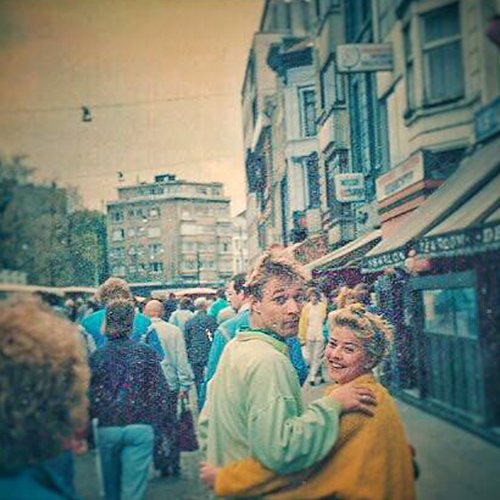 1993
The beginning of the fashion brand Claesen's is sparked due to the current owners/founders Debora and Gerard meeting whilst studying at University in Amsterdam. The two begin working together and later marry, continuing their success in both their business and private lives as a two person team. The couple still own and run the day to day business at Claesen's HQ.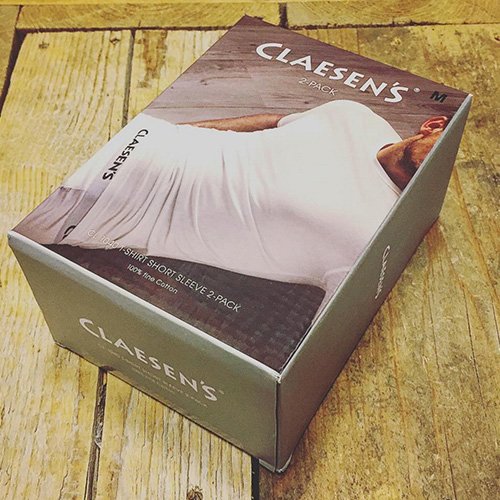 1994
Ladies basic underwear & homewear program; bra tops, briefs, singlets, lounge pants, sweaters and dresses is introduced into the Claesen's portfolio. The Claesen's offering expanded to include both male and female basics of exceptional quality.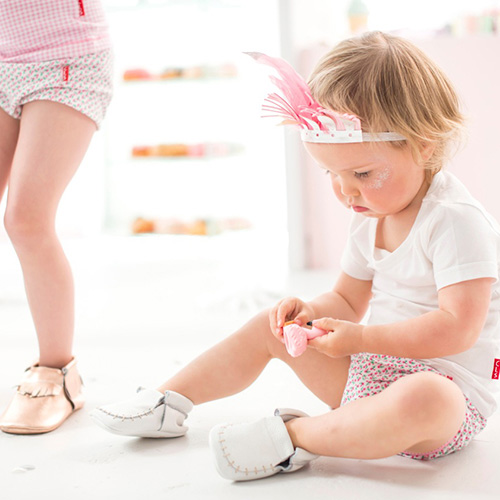 1995
Competition was unable to keep up with the Claesen's business model for their Never out of Stock programme for both junior and senior due to the competitive offering; 'Stores order before 2pm and get a next day delivery'. Claesen's control over the market begins to grow.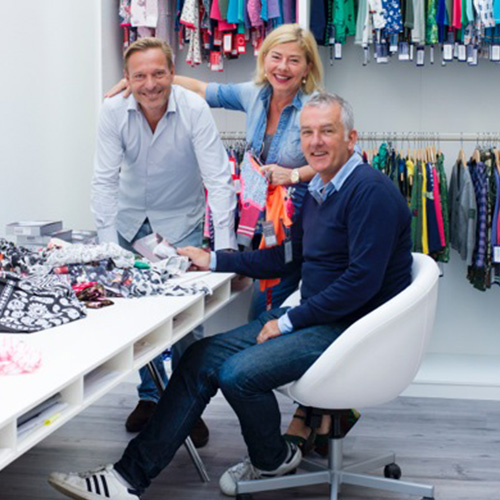 1996
The two person team becomes three as Maarten is officially recruited as the third partner and head of sales. The three work tirelessly to continue to grow the brand in their home market.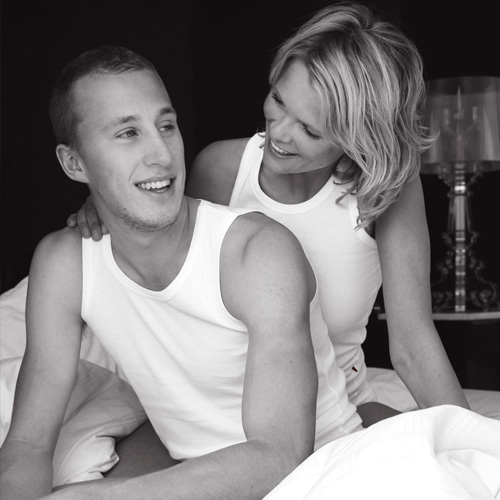 2000
Senior and junior collection expanded: Summer, High summer, Winter and high winter fashion ranges. The inclusion of fashion ranges transforms the brand from a known and trusted supplier of high quality basics, to a dynamic brand offering seasonal fashion collections alongside their Never out of Stock programme.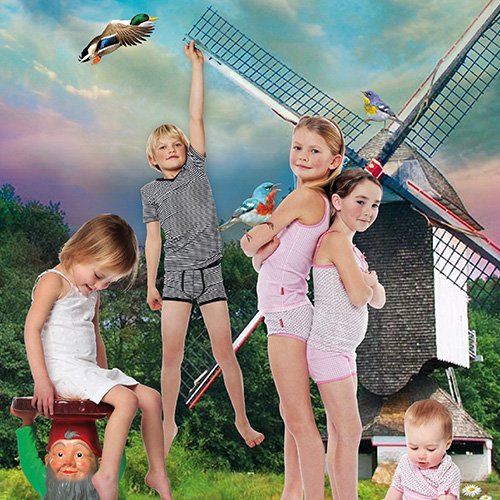 2001
Further innovation sees the introduction of kids and baby swimwear programmes; bikini's, swimsuits, surf shorts and swim shorts. The Claesen's portfolio now includes basics, seasonal fashion and summer swim wear.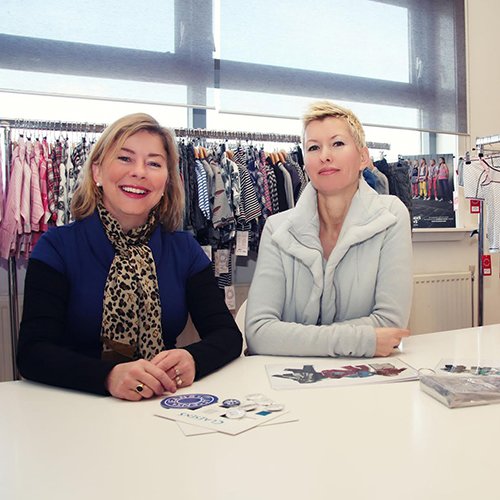 2002
Shirley joins to help oversee all design aspects of all ranges. Shirley and Debora work closely together to inspire one another and to create, design and produce all Claesen's styles across the entire range.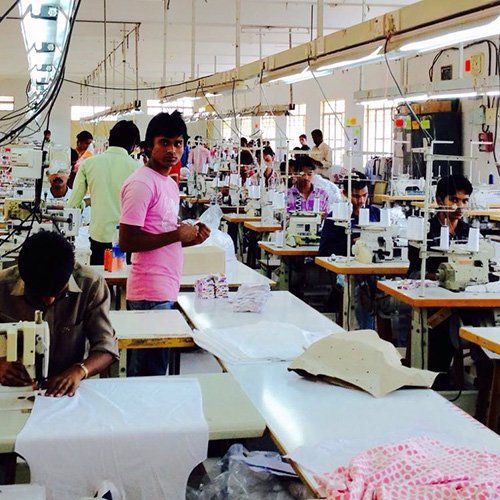 2004
Claesen's started their own factory in India with sustainability in mind. Claesens decides to acquire its own production facility. This enables transparency, the ability to oversee the entire supply chain, quality control and timely deliveries. The Claesen's team spend a lot of time in India and still visit the factory, and their colleagues regularly to this day.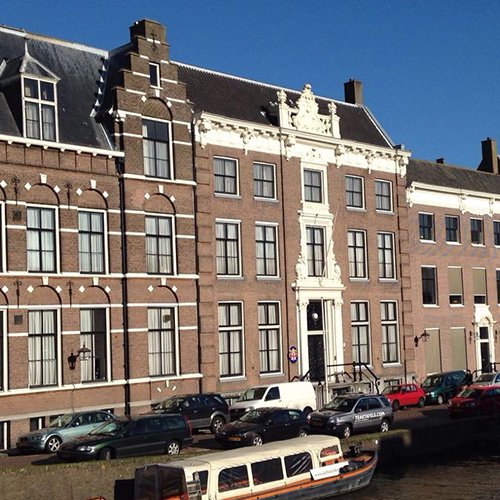 2011
Claesen's HQ and showroom moves to the centre of Haarlem in an old Patrician house. By the water in a typically Dutch setting, the team are here 5 days a week (sometimes more!) designing, testing, marketing, and selling their brand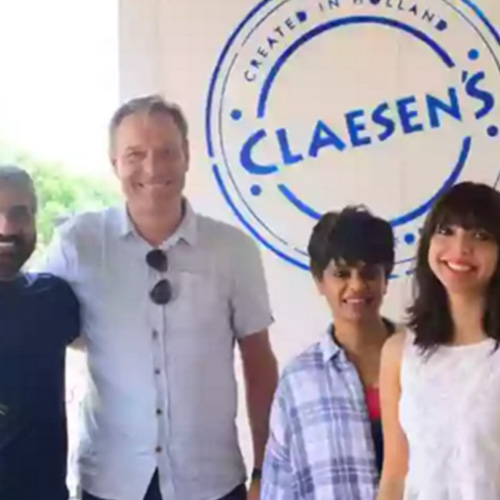 2012
Claesen's enters the local Indian market with men's innerwear and kids innerwear, loungewear & sleepwear Nayanika Pawar met co-founder Gerard Den Boer and mentioned to him that she was interested in launching the brand in India. People in india understand that there is a huge gap in fashionable quality innerwear for kids. Also Claesen's pricing and products are so sharp and competitive that people said "yes we want to try Claesen's." Claesen's already has around 250 points of sale in India and this is managed by a skeletal team.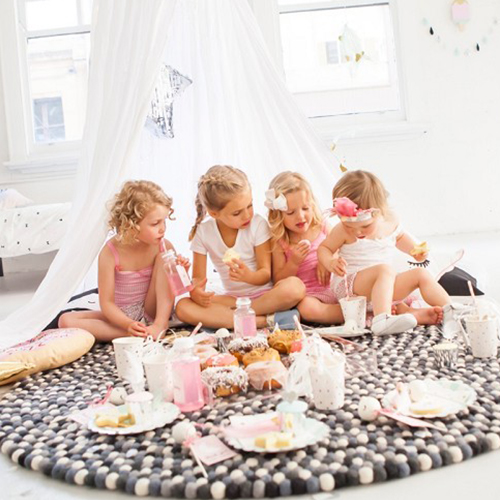 2014
Claesen's official webshop is born. All senior and junior basics, seasonal fashion, sleepwear and summer swimwear are available at our shop. With deliveries all over the world. At www.claesens.com you will experience an optimal digital shopping sensation and we make it as hassle- free and personal for you as possible. Quick delivery and easy returns and a very easy shopping experience, that was our goal when we made you this website. All easy convenience to give you the best service. Claesen's is also available at many international stores, kindly check @ claesens.com/nl/storelocator.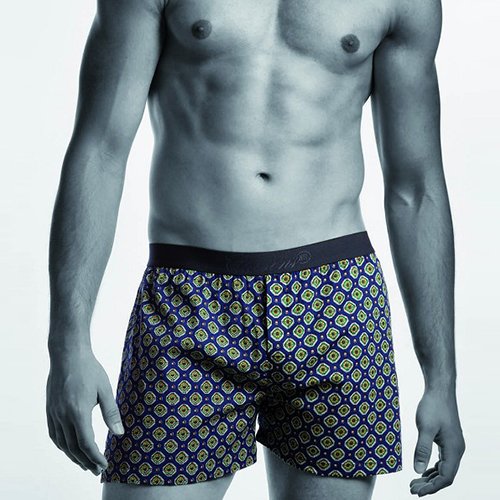 2015
Claesen's No.1, luxury menswear is born - a Peruvian Pima cotton programme for men. This collection is an immediate hit with celebrities and professionals alike due to its unique fabric, colour palette and style. Underwear comprised of six different shapes with the dandy era in mind mixing solids hues with paisley prints.
2016
Further inovation and developing of Claesen's Mini. The smallest little baby sizes for newborn babies in very soft and delicate fabrics. This range is an exciting addition to the Claesen's portfolio and caters specifically to the very young. Because it is hard to find cute and comfortable lingerie for ladies, Claesen's will introduce this summer No.1 for ladies. Bra's, tops, briefs, pyjama or lounge jackets & pants and dresses in beautifull paisley prints and solids made of luxury Peruvian Pima cotton.
2016
Claesen's is proud to announce that all styles in knitted fabrics are certified in accordance with the global Oeko-Tex Standard 100 per October 2016. The OEKO-TEX® 100 standard has requirements for the final product and aims to guarantee that products are free of harmful substances and therefore safe for human health and the environment too. OEKO-TEX® 100 is perhaps the most accepted and well-known standard.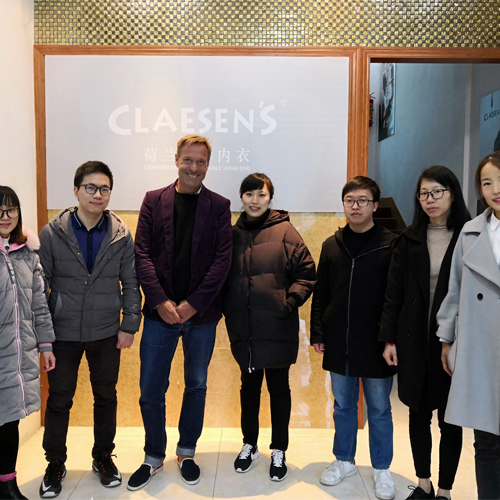 sept 2016
More expansion overseas, that's the goal of Claesen's, especially in the emerging markets. Claesen's India is already in the pocket and since september 2016 we can proudly announce to be the owner of Claesen's China. Our office is based in Shanghai and is successfully managed by a very wise and active woman named Rong Lu, For now we sell a lot of ladies & men's underwear in China and we plan to extend our range with children's wear very soon.
2018
YESSSSS, we did it! We celebrate from 25th of May our Claesen's 25 Years Anniversary. We are very proud and want to thank everybody who supported us during the past 25 years as loyal clients, customers, photographers, computer wizards, suppliers and buyers. We are very happy to have our strong Claesen's team around us. Let's go for another 25 years and just look at the team and see what a great spirit we have!!!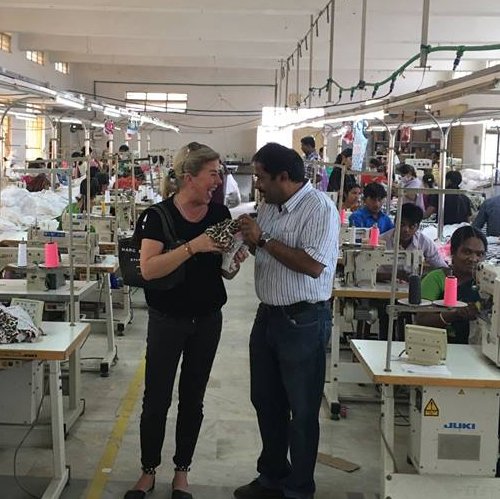 2018
-Children are the future- It is our responsibility to leave the earth intact to the next generation. A better world in which people deal with nature and each other with care. In our own factory in India we have made socially responsible production the basis. We have the SA8000 certificate that covers control on: health, safety at work, discrimination, working hours and salary. We ensure good working conditions and a good income for many families. We often visit our factory and suppliers to ensure that quality standards are guaranteed. Our aim is to keep the quality as high as possible to contribute to sustainability. We encourage you to wear Claesen's items for a long time and to pass on from brother and sister to cousin and niece. -The whole Claesen's team hopes to contribute to a wonderful carefree future for our children-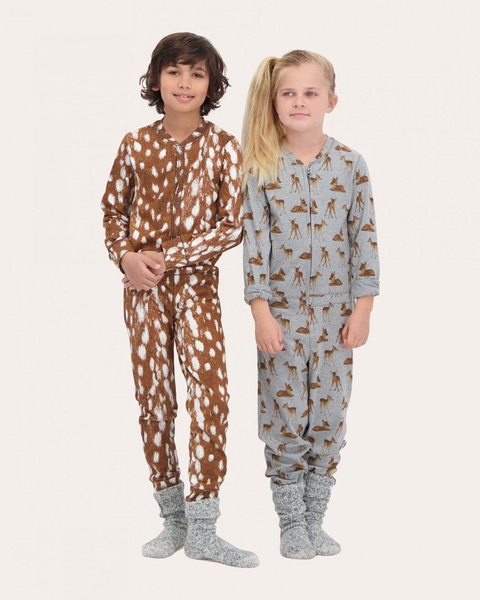 2020
Fashionable, soft and strong onesies made of cotton with some stretch in beautiful prints for all adventurous and dreamy children. There is always a color or cool print that suits your little one. We offer the very famous Claesen's Cotton Velvet onesies, Terry Towel and Cotton Stretch onesies in cool and sweet soft prints. They are so comfortable and a real classic in the Claesen's range, just wear them to chill, to school, to exercise or to play outside. Completely free of toxic dyes and responsibly made, so sustainable as it should be for our new generation. Claesen's has been around for more than 25 years and all styles remain as new after many many washing, so you can easily hand down after outgrown; How fun and sustainable is that?